I never made it all the way to "sewing" - this view is what greeted me when I opened the door to my sewing shed in the garden after the game. Egad!
Half of this shed is for me to sew in, the other half is the only storage space for our whole house. So when something doesn't have a spot in the house, it gets put right inside the door of the shed. But I can't blame the family for more than half of this, the rest is my doing.
Four hours later, it looks like this:
And there are five, count 'em, FIVE big trash bags full of fabric waiting to be picked up by a fellow fabric junkie tomorrow night.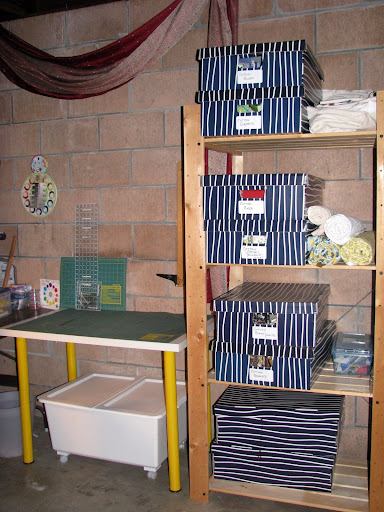 The clean up gave me room to put away the tiny treasures I took from my grandmother's sewing collection, and also have a bin dedicated just to UFOs, which is nice. I tossed several, so am down to just two quilts, one skirt and one pillow that needs repair.
Can't wait!